Flare Set for Ford Transit 148" Wheelbase Vans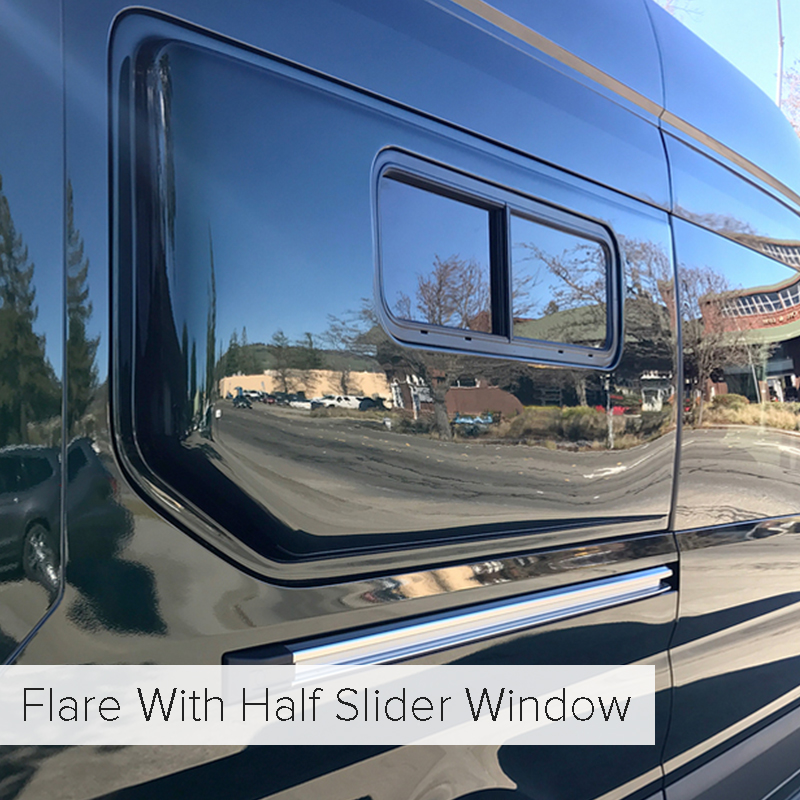 Flare Set for Ford Transit 148" Wheelbase Vans
Your flare set should be as customizable as your build! Clean and stealth? More daylight and ventilation? We've got you covered!
First, decide if you are a window person
Thinking about window flares? Read this first!
Second, choose your window
No Window - the max bed length no matter what your bed height is. Stealth, more room to insulate, quieter.
CR Laurence Half Slider Window - Half the window slides open. Dark limo tint, removable mosquito screen.
CR Laurence Awning Window - A perfect match to your CR Laurence t-vent windows up front. Dark tint, removable mosquito screen, 15 degree opening can be used in the rain. Available on both driver and passenger side.
Third, select your driver and passenger side from the drop down menus below. Flares are made to order and ship within 5 business days. All window flares include the window and FedEx Ground shipping within the contiguous US is always free! Scroll down for more product info.
Flare Set / Ford Transit Van + Wagon / 2015 to 2019 / Medium or High Roof / 148 Wheelbase / 28.25" x 64.5" x 3.25" Flare / Includes approved installation materials and instructions / Can be installed on extended body cargo vans, please contact us for details.
Hit the cart button above to be taken to our secure checkout where you will enter shipping and payment information. Payments are securely run through Stripe and shipping information is kept on our secure server. Please contact us if you have any questions about your purchase.